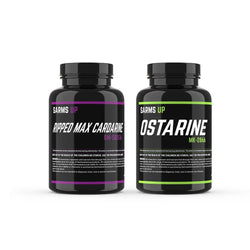 Sarmsup
FAT BURNER STACK 15% OFF
Sarms UP - FAT BURNER STACK
1 x OSTARINE MK-2866 ENOBOSARM
1 x RIPPED MAX CARDARINE GW-501516


Improve fat loss
Stronger than fat burners
Increases endurance
Indicates lean muscle mass
Increased glucose and fatty acid use in muscle
$149.99 $199.99

FREE SHIPPING OVER $85+

Sarms UP - FAT BURNER STACK
1 x OSTARINE MK-2866 ENOBOSARM
1 x RIPPED MAX CARDARINE GW-501516


Improve fat loss
Stronger than fat burners
Increases endurance
Indicates lean muscle mass
Increased glucose and fatty acid use in muscle
SARMS UP – FAT BURNER STACK  combines:

Ostarine MK-2866 Enobosarm 

for tissue

repair and speedy recovery

Cardarine GW-501516 for rapid fat-burn and energy

The powerful combination of these 2 Sarms UP products ensures fat-burning power, facilitating rapid fat loss at the same time building lean muscle mass.


Sarms UP Ostarine MK-2866 Enobosarm  is great for healing injuries and repairing damaged tissues. Lab studies show its anabolic properties that result to new growth of adipose-free muscle fibres.


This constructive, tissue-generating feature of MK-2866 assures sustaining mass gains even with the most intense training and a fast upturn of strength and energy after workouts.


Dubbed by some scientists as an "exercise mimetic", Sarms UP Ripped Max Cardarine GW-501516 stimulates the metabolic pathways that are activated during cardiovascular exercises. The associated power boost that MK-2866 provides comes from the amplification of succinate dehydrogenase levels which in turns play a role in mitochondrial energy generation.


Researches illustrate Cardarine's ability to target adipose tissues, break  them down, and utilize fatty acids  to furnish the body's energy needs.

As a PPAR agonist, Cardarine GW-501516 can essentially re-engineer our natural metabolic pathways and train the body to select fatty acids over glucose stores as the primary source of fuel.

The Sarms UP Fat Burner Stack is an excellent blend recommended for athletes, bodybuilders, and individuals who simply wanted to lead a fitter, healthier lifestyle. This stack will effectively reduce body fat, provide energy, accelerate recovery, and sustain lean muscular gains for a shredded, more toned physique.

References:
https://www.ncbi.nlm.nih.gov/pubmed/19852734
https://www.ncbi.nlm.nih.gov/pubmed/29785666
https://www.ncbi.nlm.nih.gov/pubmed/24189892
https://www.ncbi.nlm.nih.gov/pubmed/25943561
https://www.ncbi.nlm.nih.gov/pubmed/21363937

Fast same day registered post shipping. We ship World-Wide.
99% Pure Sarms
Pharmaceutical grade
Manufactured in USA
Compounded by Sarms UP Pharmacologist
HPLC Tested
Registered USPS post with tracking
Scientific-backed advice and assistance
These products are not for use in preventing, curing, or treating a particular disease or ailments. For research only.

DOSAGE OSTARINE MK-2866 ENOBOSARM:
Sarms Up Ostarine: A dose of 25mg per day of Ostarine MK-2866 Enobosarm is recommended for males and 12.5mg per day for females. Each bottle has 60 caps of 15mg of Ostarine. Each bottle contains 30+ days of use. Cycle Length 6 - 8 weeks.


DOSAGE RIPPED MAX Cardarine GW-501516:
Sarms Up Ripped max Cardarine GW-501516: A dose of 20mg per day of Ripped Max Cardarine is recommended. Each bottle has 60 caps with 10mg of Cardarine. Each bottle contains 30+ days of use. Cycle Length: 8-12 weeks.