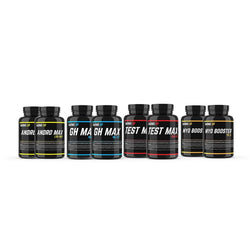 Sarmsup
ULTIMATE GROWTH STACK 30% OFF
Sarms UP - ULTIMATE GROWTH STACK
2 x ANDRO MAX LIGANDROL LGD4033
2 x GH MAX IBUTAMOREN MK677
2 x TEST MAX TESTOLONE RAD140
2 x MYO BOOSTER YK11
SarmsUP store provides researchers wor...

FREE SHIPPING OVER $85+

Sarms UP - ULTIMATE GROWTH STACK
2 x ANDRO MAX LIGANDROL LGD4033
2 x GH MAX IBUTAMOREN MK677
2 x TEST MAX TESTOLONE RAD140
2 x MYO BOOSTER YK11
SarmsUP store provides researchers world wide with the highest quality ligandrol SARM for sale online.

Research has shown that Ligandrol, LGD4033, is one of the strongest SARMs in regards to strength and size because it binds selectively on the androgen receptors creating anabolic activity in only the bones and muscles hence its comparisons to steroids without the side effects. Sarms UP ANDRO MAX LGD4033 Ligandrol or Anabolicum selectively targets the androgen receptors in muscle and bone. It is considered the most powerful muscle builder of the entire Sarms range as well as creating drastic increases in strength and power.

ANDRO MAX LGD4033 Ligandrol works by tying androgen receptors selectively. It shows anabolic activity in the bones and muscles instead of harmfully affecting the prostate and sebaceous glands.
GH MAX MK677 - SarmsUP sells the purest quality and best MK677 Ibutamoren in the industry. Our pharmaceutical grade MK677 sarm has been a favorite more many researchers in the USA, Canada and Australia.
Sarms UP GH MAX MK677 Ibutamoren is a growth hormone secretagogue. Growth hormone is one of the most important hormones in mammals, which is responsible for biological age, muscle quality, body fat levels, skin elasticity and connective tissue quality. A growth hormone secretagogue amplifies the body's natural release of growth hormone such as when in deep REM sleep, first thing in the morning and after intense exercise.
GH MAX MK677 Ibutamoren has demonstrated in studies to increase the release of, and produce sustained increases in plasma levels of several hormones including GH and insulin-like-growth-factor 1 (IGF-1) for up to 24 hours.  It is one of the most praised SARMs out there, and for many good reasons. It has sufficiently of benefits. Many people use it to treat illnesses and insufficiencies. MK677 works best when stacked with Cardarine (GW501516) and Testolone (RAD140).
Sarms UP TEST MAX RAD140 TESTOLONE mimics the effects of testosterone without being a hormone and while having none of the side effects of testosterone. It therefore increases lean muscle mass and reduces body fat simultaneously. TEST MAX RAD140 Testolone also selectively targets androgen receptors in the brain making it neuroprotective, with many users reporting an increase in memory and memory recall times, as well as an increase in reaction times while using Testolone RAD140.
Studies with RAD140 have shown an incremental increase in lean mass which increases with the dose. At the same time RAD140 created a loss of fat tissue and aided in the preservation of muscle tissue with it's additional anti-catabolic effects. -RAD140 have greater anabolic effect then testosterone. Elderly men and women who took modest doses of Rad140 Testolone for 12 weeks grew 3 pounds of muscle and lost a pound of fat, with no changes to diet or exercise. There were no side effects in either study. A pound of muscle a month is about what you would expect with a solid workout routine – but the people taking Testolone in these studies weren't exercising. Combining the two would be even more powerful, in theory. Pretty impressive!
Sarms UP MYO BOOSTER active ingredient YK11 is one of the most advanced compounds currently available on the market.
YK-11 is a one of a kind substance that works to inhibit Myostatin while working as a Sarm at the same time (Selective Androgen Receptor Modulator). Myostatin is a protein which inhibits and limits muscle growth. Alpha Helix works by binding to Myostatin allowing for one to build tissues to grow beyond the limitations that myostatin normally places on them. A heavy muscle-building routine can become hard on the muscle tissues and can lead to some form of muscle wastage. While taking YK11, you won't experience those consequences, as it effectively promotes lean tissue growth and conserves the lean mass at the same time, even in a caloric deficit!
YK11 induces muscle cells to make more follistatin (more than DHT does) – also a strong myostatin inhibitor. With that said, YK11 can be as powerful as testosterone in terms of muscle tissue strengthening and muscle cell volumisation.
Fast same day registered post shipping.


99% Pure Sarms
Pharmaceutical grade
Manufactured in USA
Raw compound sourced from USA
HPLC Tested
Registered USPS post with tracking
Scientific-backed advice and assistance
These products are not for use in preventing, curing, or treating a particular disease or ailments. For research only.

DOSAGE ANDRO MAX LIGANDROL LGD4033
Research suggests Sarms UP ANDRO MAX LIGANDROL LGD4033 is effective dosed at 10mg - 20mg per day. Each bottle has 60 caps with 10mg of LGD4033. Each bottle contains 60 + dosages. Research cycle length: 8 – 12 Weeks. 
DOSAGE GH MAX IBUTAMOREN MK677
Research suggests this Sarms UP GH MAX IBUTAMOREN MK677 is effective dosed at 15mg - 30mg per day. Each bottle has 60 caps with 15mg MK677. Each bottle contains 30 + dosages. Research cycle length: 6 – 8 Weeks.
DOSAGE TEST MAX TESTOLONE RAD140
Research suggests Sarms UP TEST MAX TESTOLONE RAD140 is effective dosed at 10mg - 30mg per day. Each bottle has 60 caps with 15mg of RAD140. Each bottle contains 30 + dosages. Research cycle length: 6 – 8 Weeks..
DOSAGE MYO BOOSTER YK11
Research suggests Sarms UP MYO BOOSTER YK11 is effective dosed at 5mg - 15mg per day. Each bottle has 60 caps with 5mg of YK11. Each bottle contains 30 + dosages. Research cycle length: 6 – 8 Weeks.